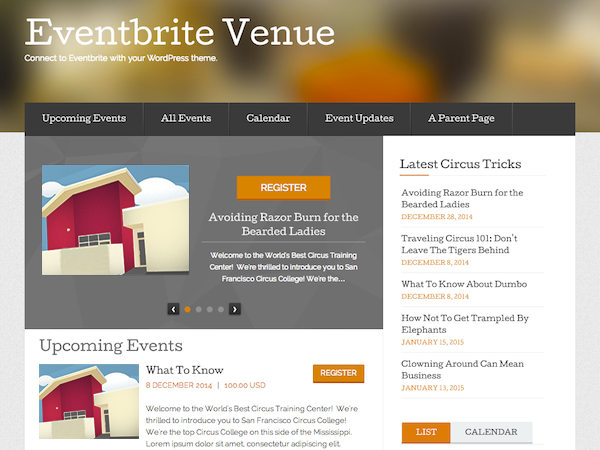 Bringing Eventbrite to WordPress.org
Last year, Eventbrite, Automattic and Voce teamed up to bring the Eventbrite and WordPress communities together! While initially the project was slated for WordPress.com, it quickly became apparent that it should not stop there, the community should implement the themes and service on their own sites. Well that time has come!
How it came to be
The goal was to allow a promoter to leverage their Eventbrite presence on their WordPress site. It would enable further personalization of Eventbrite events, while bringing more users to the WordPress platform. We needed a design that would be appealing to all audiences, seeing that Eventbrite is home to various types of events. Visitors would also need to be able to view content from a variety of devices, so they were made responsive.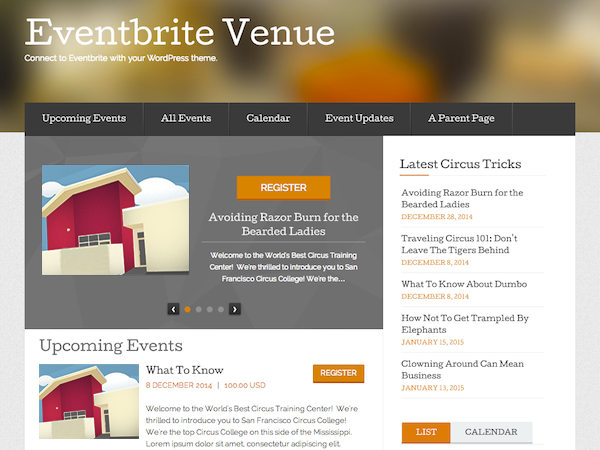 In September 2013, the themes were launched on WordPress.com. Eventbrite, Automattic and Chris (from Voce) had some great blog posts about the themes after the launch! Automattic has maintained the themes over the past year, then this past summer, we kicked off the project to bring the themes to WordPress.org!
In order to keep things simple, the collection of plugins used with the themes, in addition to common logic shared between the themes, was abstracted and packaged up in to a single plugin, the Eventbrite Services plugin. As a bonus, having the single plugin will allow us to bring features and enhancements in a more streamlined format. For example, in the future, we plan to bring the Eventbrite Event Calendar/Listing widget, found on WordPress.com, to the community as well!
On to the important part
The links….
The Eventbrite Event theme is for showcasing a single Eventbrite event.
The Eventbrite Venue theme showcases a venue or multiple Eventbrite events.
Also, don't forget to grab the Eventbrite Services plugin to enable the full potential of the themes!